Several years ago, my one sister came to visit me from South Carolina. She wondered how I could live out here. "Didn't I miss the green?"
It was March, so it was just before all the cacti and wild flowers would start blooming. Here are two of the paintings I did from plants in my yard in April.
The first is from a photo I took of the side of one paddle of a cactus in my side yard. Each paddle is about 10 x 12 inches and the plant is 10 feet tall. This is just one of the paddles.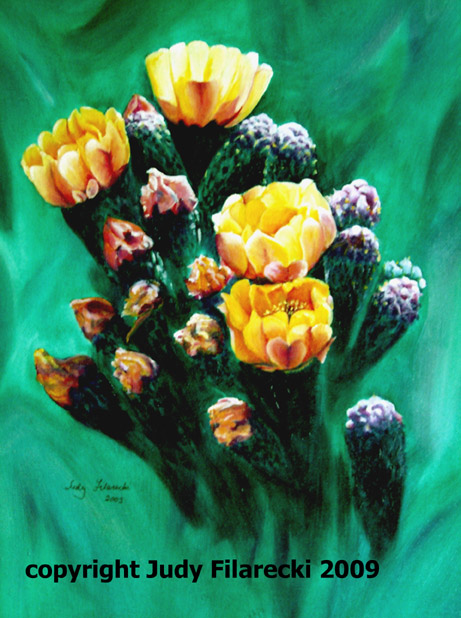 It is on a 16 x 20 stretched canvas. (I wish I had done it as an oval..oh well.) It was all done with WN Artisan brand, but it is too long ago to remember the palette. When I took the picture, it was so beautiful, I almost didn't paint it. I never figured I could capture the beauty of all the colors and different stages of the flowers and the translucency of the top flower. I decided to do a small 5 x 7 in pastels on a velour paper as a test. It was so beautiful, I ended up doing the bigger version. (sorry about the copyright being so dark, I was in a rush.)
The second one is from plants in my front yard the same year. I had never done a landscape, only mostly birds, and my customers were asking for some. This is my first "landscape" which included my birds, the gambel's quail of southern Arizona.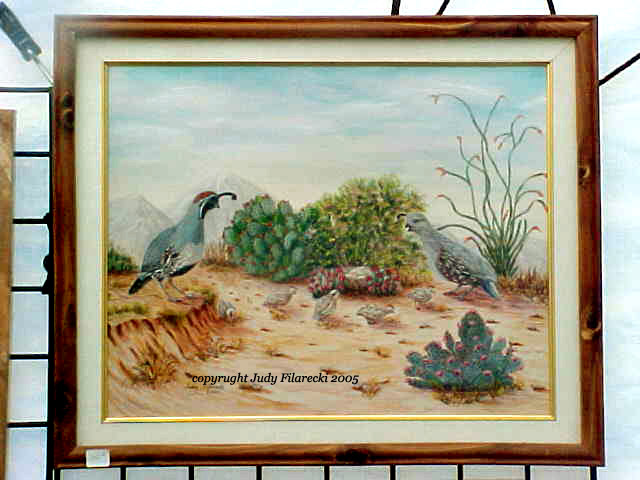 This was done on a 24 x 30 inch stretched canvas. I made most of my frames so this one was made with Vermont Red Cedar and I bought linen coverd molding for the inner frame. This also was done with WN Artisans.
I sent my sister some pictures of my front and side yard in April so she could see all the color in the desert. I did admit that I would not want to be here in the middle of the summer when it is 112 degrees, but I also would not want to be in Northern NY in the winter anymore, where it gets to 20 to 30 below zero.
Judy
_______________________________________________

judy-filarecki.artistwebsites.com***filarecki.com ***judyfilarecki.hubpages.com/