Here is a copy of our first WSO Forum Newsletter. We have been sending them out through your PM over the past several days. They are not all out yet so don't feel neglected if you didn't get one. Please be sure to check your mail. The PM's sit in my "Outbox" until you open them so it limits the number I can send out until it is clear. Sorry about the formatting, but the forum does funny things to items when you copy them.

Please forgive us. Here's what it was supposed to look like.
Hope you enjoy it.
Happy New Year from Janet, Judy and Callie
Here we are 6 and a half weeks old and starting off a New Year and New Decade with over 50 members.
We think that is pretty impressive.
It has been a busy time since starting as you can see if you have looked at the forum recently. We have worked diligently to build it so it will be of value to all of you. We are going to give you an overview of the different areas so you can see what appeals to you and where you think we can improve and expand if needed.
This is your Forum.
Janet, Judy and Callie are only here to help.
Our goal is to have a forum which is
friendly, fun and informative
One big accomplishment we are very proud of, was the development of the Forum Logo you see above. There was input from quite a few people and the final vote was for the one Callie submitted. I'm sure you will find it very colorful and representative of Water Soluble Oils.
With so many holidays over the past 6 weeks, we've all been busy with family and friends, but as we get back to our routines, we look forward to reconnecting with our forum friends. If you happen to be one of the several of us who signed up but forgot your User Name and Password, have no fear. All is not lost...
E-mail us and we can tell you your User Name. You can then go to "Log In", put in your user name and click "I've forgotten my password." You'll find instructions there on what to do next. Once you've done that, be sure to write the User Name and Password down so you remember them.
Now that you are logged in, be sure and say Hi. Share your paintings and tips
and don't hesitate to ask questions and make suggestions.
Forum StructureOne of the First Areas you will see is "Discussion"

The first forum,
"Introduce Yourself",
is pretty self-explanatory. Most of you have put your first post here. Some just told us a little bit about themselves while others posted some of their paintings as well. It is up to you.
Below that, you see
"General Chat"
. People who post here talk about all sorts of things, mostly unrelated to painting, but which helps us all get to know each other better.
The third forum,
"Site Suggestions",
started out specifically as a place to make suggestions about the site. It was later expanded to include a place for questions and answers about how to use the site.
Feel free to make any comments in here that you
feel will make the forum a better place to be and more useful to all of us
.
The next area is entitled "Group Challenges"

Need a change from your routine? Looking for inspiration?Maybe you're a new painter (or new to WS oils) and are trying to find your style...
The Group Challenge is where we get together to flex our artistic "muscles". It's not a competition, more like going to the gym.
A little work-out to keep us active and flexible. No matter your artistic style or skill/talent level, this is for all forum members.
Each month will feature a different Challenge Theme with a selection of reference photos(usually includes a landscape, still-life, portrait or figure). Pick whatever appeals to you, do one of the pictures, or as many as you want) and get painting. Show your
work as it progresses, ask questions or share tips along the way, and finally, njoy seeing all the different interpretations of the same theme.
Here's a sample from last month's challenge...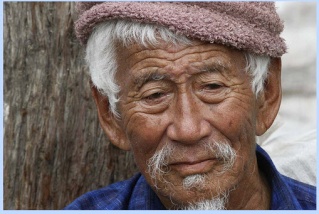 Painting by KOPO
Are You ready to give it a try?We look forward to painting with you in the January (Happy New Year!) Challenge!



Following the Challenges You will find "Painting Discussions"

In
"Talk About Art and Painting"
, you can find some lively discussion and fascinating links to many related art topics. Some of the discussions include illustrations of the "Golden Mean", a link to a very funny site from The Bad Art Museum, talk about art theft and reference contributors when you use someone else's photographs.
We would love to have you add to the discussion or present other topics you would like to discuss.
The
"Water Soluble Oils"
topic is loaded with questions, answers, tips, techniques and resources. Contributors here are people who are just starting out using WSO or those with extensive experience and everybody in between. Don't feel that you
have to be experienced to contribute a tip or technique you have tried. You know the old saying "Out of the Mouth of Babes" (or maybe you are not old enough to remember that saying). But anyway, fresh ideas are always welcome.
"Color Theory and Mixing"
is next. In the first topic, there are complete manufacturer's Color Charts displayed. At a glance you
will be able to see the colors that are available, Lightfastness Ratings and Opacity Rating etc. for many different brands of WSOs.
This is only the beginning. Check out the rest of the Color Theory Forum for all the other topics that have been introduced. Don't hesitate to contribute to these and other topics you would like to add.
How about
"Water Mixable Mix-Up"
We all tend to use a variety of different Painting and Drawing Media. Here is your chance to share some of your other work. Originally, we only allowed works that were a combination of WS Oils and other water soluble media. Now we have opened it up to all of these whether you combine them with WS Oils or not. Please share your creative combinations with us and explain how you did them. This is also a great place to demonstrate and compare techniques you have used in other water soluble media which you now apply to WS Oils.
"Going Digital"
We thought you would appreciate this Topic. How do you photograph your paintings? How do you post them to the Web? What type of software do artist use to work with their paintings? How do you manipulate a photo digitally to make it a good reference photo for your painting? These are just a few of the topics discussed here.
Surely, there are many more to be added here. Now's your chance to be a teacher and/or student in the artist's digital world.
"Extras"
is a place set aside to tell everybody any news or contests that others may be interested in. There is so much that goes on that we never hear about, so we are dependent on all of you to share this information when you get it.
That brings us down to "WSO Galleries"
The first section is
"Completed Paintings
This is where you share your completed WS Oil paintings. Not only show us the paintings. Tell us a little bit about them. I'm sure you'll get lots of comments about the painting, and so far all there have been have been positive.
Boost your ego!! Get inspired!! It's great for the Soul.
Share your
"Works In Progress"
This is a great place to not only share how you are doing a painting for others to learn from, but also a place where people will give you input into how it is progressing.
If you are really looking for help and suggestions about how a painting you are working on is going, then post in the
"Critique
Corner"
. There is plenty of help around so don't be afraid to ask.
And last in the WSO Galleries is
"Down the Drain".
As the description says, this is "A Fun Place to Share Your 'Not So Great' Paintings". Just be prepared to laugh at yourself and others while they laugh with you.
And finally, the "Reference Image Library" or the "RIL"
These are available and accessible only to members. You as members contribute to the Library and agree to allow them to be used by other members who must give you credit for the reference picture in order to use it. As you can see, there are five different topics for the photographs and all ready a good assortment. Check it out. Our members come from all over the world, so in
time, there will be quite a collection.
In closing (would you believe this is almost done?), we would like to share some of the paintings that were posted during December. Enjoy!